Malastrana, traditional Czech beer
Traditional Czech beer means high quality. Whether you are enjoying a beer manufactured with the traditional Czech method, like the Original Pils, or savouring the special beer, produced with blossoming hop, Malastrana offers products that hold a centuries-old brewing knowledge that has evolved in the unique atmospheres of an extraordinary land of Bohemia.
Special recipes
Malastrana Mosaic India Pale Lager
Malastrana's Mosaic IPL is a low alcohol beer with a delicious fresh hop aroma. The citrus notes, the pleasant bitter aftertaste, the golden color and dry hopping of the Mosaic and Vital hops, transform it into a refreshing drink suitable to accompany sports and recreational activities during hot summer days.
3,9%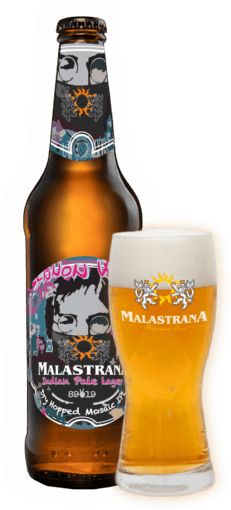 Special recipes
Malastrana Lucky Drop
Malastrana Lucky Drop follows the Czech tradition of brewing the "green beer" in Spring at Easter. This beer features an exclusive color, achieved with the addition of natural food colorants to the classic Bohemian Original Pils recipe.
4,7%